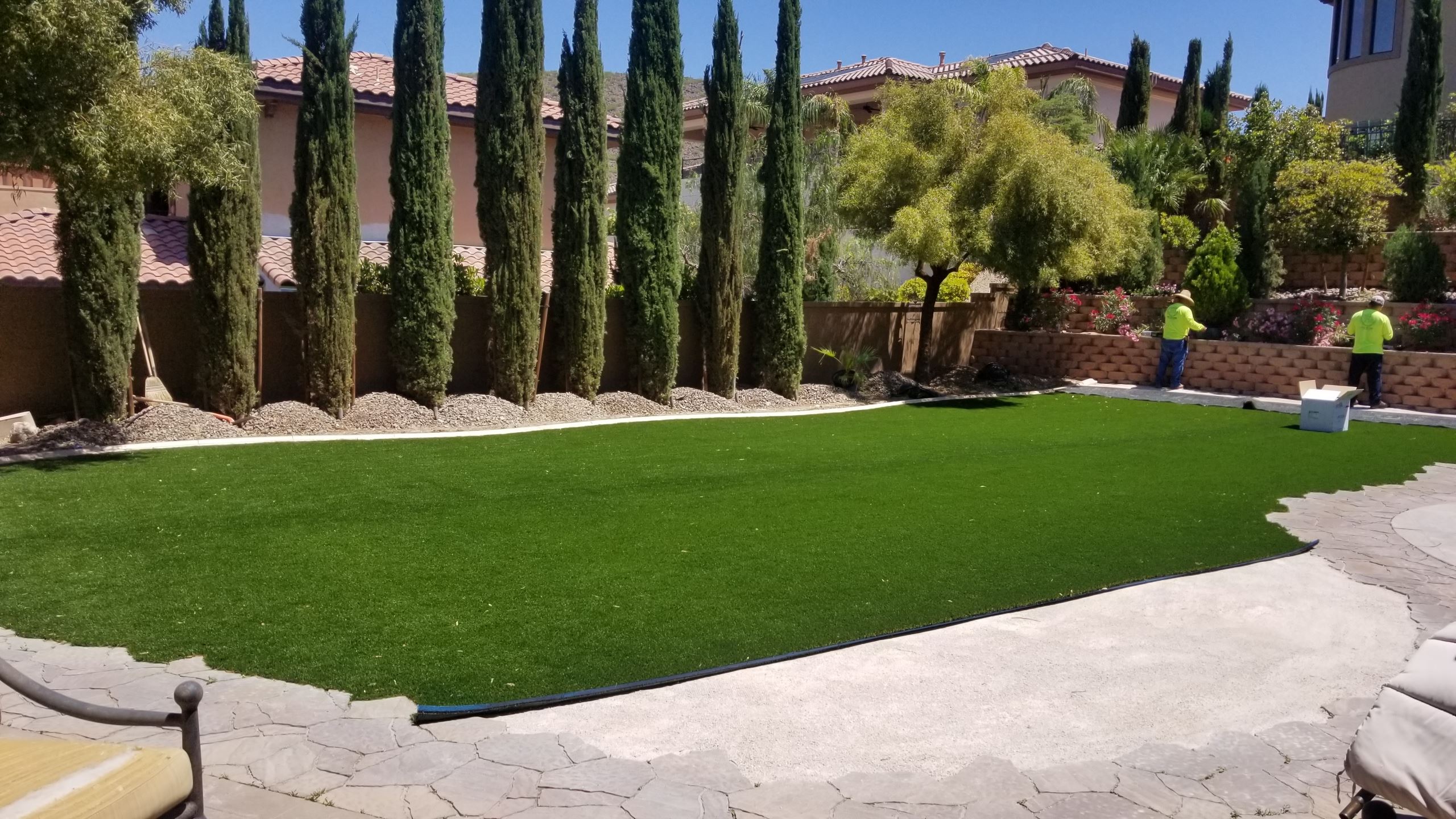 Las Vegas is surrounded by desert, but that doesn't mean you should count fall out. Cleaning up or raking up fall leaves seem to be the main focus, if you have trees in your yard.
Living in the desert, trees with fall changing leaves may not be common, but there is still landscaping care that may need to be done.
Rake Leaves and Debris
Dealing with debris and leaves during the fall can protect your property so you can enjoy a healthier lawn for when spring and summer come around next year.
With Las Vegas weather, it may be rare for your lawns to freeze, but desert nights in the fall and into winter can be chilly.
Lawns
Taking care of your lawn is important, whether it be sod and grass or synthetic turf, and finding the right type of your lawn for property and lifestyle can go a long way.
Sod and Seed
Sod and seed have both benefits and disadvantages. Seed is a great inexpensive option and it is easy to install, but it can take up to two years to create a lush lawn. It also can be high maintenance.
Sod on the other hand is a faster option and can help grow a beautiful lawn immediately.
Some other benefits include:
Creating a new lawn instantly

Stopping soil erosion

Less soil preparation needed

Less maintenance compared with using seed
Synthetic Turf
You may consider installing synthetic turf to keep your lawn looking perfect year-round.
It can save you money, time, and water. No more need for mowing, watering, and no more dead spots.
Artificial grass offers a solution to residences and business to help:
Cut watering and maintenance costs to zero!

Maintain an always professional landscape look for clients!

Be part of the growing majority of businesses doing their part to help the environment!
Year-Round Desert Plants
Cooler temperatures are rolling in, which can be harmful to some landscaping plants. Thankfully, desert plants can be resilient and last year-round if they are taken care of properly.
Natural or cultivated desert plants require a balanced approach with regard to water usage, sun exposure, shade, and soil composition. Due to the year-round weather conditions, these plants thrive year long but still need maintenance.
Some good year-round plants for the Las Vegas climate include:
Cacti
Sage
Lantana
Honeysuckle
Ornamental grasses
Various species of palms
Myoporum
Rosemary
Weeping bottlebrush
Prostrate acacia aka "desert carpet"
Coneflower
Irrigation Repairs
Your irrigation system is important at all times of the year, especially in the desert. When you have a broken sprinkler head, poor water pressure or other issues, it is important to fix them right away.
If you are having a problem with your irrigation system, 2-15 Landscaping can help. Experienced technicians can repair or replace broken sprinkler heads, diagnose and repair problems with water pressure, repair backflow valves, locate and repair leaks, repair problems with automatic rain shut-off, and fix broken fittings or pipes.
Landscape Lighting
Before the Christmas lights go up, be sure your landscaping is lit properly to compliment your home at night.
At 2-15 Landscaping our highly trained outdoor lighting staff is backed by years of experience with outdoor lighting and landscape lighting design including up-lighting, downlighting, moon-lighting, cross-lighting, grazing, shadowing, path-lighting, and back-lighting.
Show off your property best by ensuring your landscaping features are brightened up at night.
Whether it's regular maintenance, installing new grass, an irrigation system upgrade, lighting, or one of our many other services, we'll deliver quality work that we know you'll love. Learn more about our services by visiting us online or give us a call at (702) 766-0005.